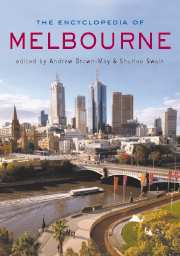 The Encyclopedia is an A to Z reference work covering the city's history from pre-European settlement up to the present day.
Alphabetical entries range from short factual summaries about places, institutions and events, through to extended survey articles on key topics such as Architecture, Aboriginal Melbourne, Economy, Foundation and Early Settlement, Law and Order, Literature, Science, Sport, Suburbia, Theatre and Transport.
I have two copies of the Encyclopedia of Melbourne, signed by editors Andrew-May Brown and Shurlee Swain.
I woke on a sunny Melbourne day on Tuesday 25th October 2005 to read in The Age that this long-awaited publication was being launched at one of my favourite places, and appropriately, Royal Exhibition Building in Carlton.
I popped along and was part of the launch of this excellent book as the photo's on this page show…
Link: Encyclopedia of Melbourne
Buy Book